Category Archives:
History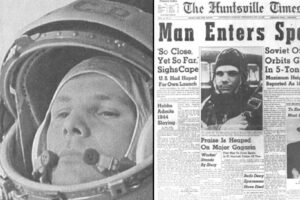 Russia on Monday celebrated the 60th anniversary of the legendary flight that made Yuri Gagarin the first man in space, a major source of national pride for millions of his countrymen.
Gagarin's mission on April 12, 1961, marked a historic achievement for the Soviet Union, which beat the United States in a tight race to launch the first human into space.
The flight was limited to a single orbit because of questions about weightlessness, Gagarin was supposed to parachute out of the capsule on return because a soft-landing system was not ready yet.
In a letter to his wife, Valentina, Gagarin asked her to raise their daughters "not as little princesses, but as real people", and to feel free to remarry if his mission proved fatal.
"Poyekhali!" (Off we go!), the cosmonaut shouted as he took off at 9:07am Moscow time on April 12, 1961.
The 27-year-old cosmonaut's mission was fraught with drama: a break in data transmission, glitches involving antennae, a retrograde rocket, and the separation of modules.
But the flight went off safely, and Gagarin became a poster boy for the communist world and is still a national idol 53 years after his death in a jet training accident.
Gagarin bailed out as planned and parachuted onto a field near the Volga River about 720km (450 miles) southeast of Moscow.

On April 14, the cosmonaut was flown to Moscow, where he was greeted by Soviet leader Nikita Khrushchev and driven into town on a highway lined with cheering Russians.
He died on March 27, 1968, after the MiG-15 jet fighter he was flying crashed near the town of Novosyolovo.
There are statues of the cosmonaut across Russia, including in a field near the Volga River where Gagarin landed after his historic flight, and the site also bears a commemorative obelisk.
A theme park was set up there to mark the 60th anniversary of his flight.
Marianna Poberzhskaya, associate professor at Nottingham Trent University, said: "There is still a lasting memory of Gagarin in Russia, his legacy is very much still alive. It is one of the few positives from the Soviet era and it has many benefits to the nationalist identity. Over the years his memory has been commercialised in Russia, through souvenirs, TV shows and statues."
On April 9, 1959, NASA introduced its very first astronaut class. This dashing group of young men is known as the Mercury 7.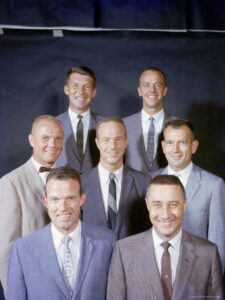 They were all military test pilots before they were chosen for the job, and they had all "the right stuff" to take on such risky missions. But in a way, they essentially became guinea pigs for NASA's new human spaceflight program, because they didn't get to do much piloting inside the Mercury spacecraft.
Some of the pilots weren't too happy about this. But the rest of the country paid no attention to that, and the Mercury 7 instantly became national heroes. In 1961, Alan Shepard became the first American to fly to space, followed by Gus Grissom. Then in 1962, John Glenn became the first American to orbit the Earth.
After that, Scott Carpenter, Wally Schirra and Gordon Cooper all completed orbital missions as well. Deke Slayton, the only Mercury 7 astronaut not to fly a Mercury mission, later flew on the historic Apollo-Soyuz mission, the first joint flight by two countries: the United States and Soviet Unio
April 3, 1973: Soviet Union launches Salyut 2 space station
On April 3, 1973, the Soviet Union launched a small space station called Salyut 2. This was the second space station to be successfully launched (after Salyut 1) and the first military space station.
The Soviet Union told the rest of the world that Salyut 2 was a civilian space station built for scientific research, but it was secretly intended to be a crewed military reconnaissance station. No crews ever made it to Salyut 2, though. Less than two weeks after it launched, its attitude control system stopped working, and it started tumbling around in space. Mission control noticed that pressure inside the station had dropped for no apparent reason.
They later found out that a small explosion had happened in the station's propulsion system several days earlier. The damaged station was slowly falling apart. Bits and pieces of Salyut 2 fell back to Earth and burned up in the atmosphere.