In the Artemis II Manned Lunar Mission, 4 astronauts comprised of 3 Americans and 1 Canadian, will be announced by NASA to complete a generation-defining mission to the moon's orbit, returning humans deeper into the solar system than has been reached in five decades since the Apollo Missions.
Scheduled to launch in 2024, Artemis II will be the program's first crewed mission to orbit the moon, flying farther into space than any humans since the Apollo program. It will pave the way for the Artemis III crew to walk on the moon in 2025, all aboard the world's most powerful rocket and at a price tag that by then will approach $100 billion.
Following months of closed-door decision-making, NASA officials plan to unveil the names of the crew members in a ceremony scheduled for Monday at 11 am ET.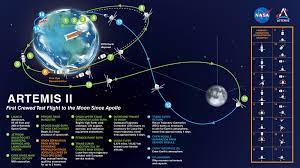 NASA ARTEMIS MISSION SUMMARY
For the Artemis Program, The Artemis II mission will build on Artemis I, an uncrewed test mission that sent NASA's Orion capsule on a 1.4 million-mile voyage to lap the moon that concluded in December. The space agency deemed that mission a success and is still working to review all the data collected.
If all goes to plan, Artemis II will take off around November 2024. The crew members, strapped inside the Orion spacecraft, will launch atop a NASA-developed Space Launch System rocket from NASA's Kennedy Space Center in Florida.
The journey is expected to last about 10 days and will send the crew out beyond the moon, potentially further than any human has traveled in history, though the exact distance is yet to be determined.
The "exact distance beyond the Moon will depend on the day of liftoff and the relative distance of the Moon from the Earth at the time of the mission," NASA spokesperson Kathryn Hambleton said via email.
After circling the moon, the spacecraft will return to Earth for a splashdown landing in the Pacific Ocean.
Artemis II is expected to pave the way for the Artemis III mission later this decade, which NASA has vowed will put the first woman and person of color on the lunar surface. It will also mark the first time humans have touched down on the moon since the Apollo program ended in 1972.
The Artemis III mission is expected to take off later this decade. But much of the technology the mission will require, including spacesuits for walking on the moon and a lunar lander to ferry the astronauts to the moon's surface, is still in development.
NASA is targeting a 2025 launch date for Artemis III, though the space agency's inspector general has already said delays will likely push the mission to 2026 or later.