SpaceX performed the first high-altitude test flight of a prototype of its Starship launch vehicle Dec. 9, with the vehicle successfully lifting off the pad but exploding when attempting a landing several minutes later.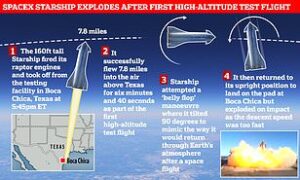 The Starship SN8 vehicle lifted off from SpaceX's test site at Boca Chica, Texas, at approximately 5:45 p.m. Eastern. The flight was the first high-altitude test of the vehicle, intended to go to an altitude of 12.5 kilometers before descending and making a powered vertical landing back at the launch site.
The vehicle ascended into the Texas sky, although SpaceX did not immediately provide information on the actual altitude that the vehicle reached. One of the three Raptor engines in the base of the vehicle shut down 1 minute and 40 seconds after liftoff, briefly igniting equipment in the engine bay. A second engine shut down 3 minutes and 15 seconds after liftoff.
The last engine shut down 4 minutes and 40 seconds after liftoff, at which point the vehicle began to descend. It shifted into a horizontal orientation, using its fins to guide its descent. At 6 minutes and 32 seconds after liftoff, Starship reignited its engines and reoriented to the vertical to attempt a powered landing. However, the vehicle appeared to be going too fast and made a hard landing 10 seconds later, exploding.