Home » Posts tagged 'Starship'
Tag Archives:
Starship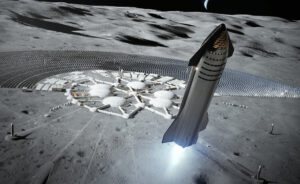 Race to the moon is heating up between USA, Russia, China and India with news of new missions every day. China's first lunar sample return heated up this race this year and Artemis Project by NASA is going full speed ahead as it has a goal of having a manned landing on moon and then to have a sustainable long term presence on the moon with moon habitats by the end of 2020s. Now a new development heats the moon race as Elon Musk states that SpaceX can land astronauts latest by 2024 to the moon.
SpaceX spacecraft Starship is about 50 meters tall and its a heavy rocket with lift capability that can allow a moon mission similar to the Saturn rockets of moon missions in the 1960s. The giant first-stage rocket that will launch Starship off Earth is called Super Heavy. SpaceX has built a Super Heavy prototype but has not yet flown one. If the prototype is successful, this development can make SpaceX become the first private company to reach the moon and make USA the first nation to reland a manned mission on the moon after 1960s.
Musk acknowledged that his target timelines tend to be optimistic and should be taken "with a grain of salt." But the occasion of today's news conference offers some reason for optimism, highlighting as it did SpaceX's human spaceflight achievements (albeit with a different transportation system, the Falcon 9 rocket and Crew Dragon capsule). With Crew-2 safely on its way to the space station, SpaceX has now launched three crewed missions to Earth orbit in less than 12 months.
SpaceX performed the first high-altitude test flight of a prototype of its Starship launch vehicle Dec. 9, with the vehicle successfully lifting off the pad but exploding when attempting a landing several minutes later.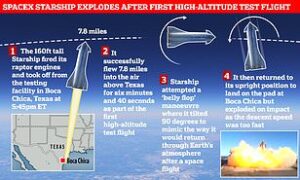 The Starship SN8 vehicle lifted off from SpaceX's test site at Boca Chica, Texas, at approximately 5:45 p.m. Eastern. The flight was the first high-altitude test of the vehicle, intended to go to an altitude of 12.5 kilometers before descending and making a powered vertical landing back at the launch site.
The vehicle ascended into the Texas sky, although SpaceX did not immediately provide information on the actual altitude that the vehicle reached. One of the three Raptor engines in the base of the vehicle shut down 1 minute and 40 seconds after liftoff, briefly igniting equipment in the engine bay. A second engine shut down 3 minutes and 15 seconds after liftoff.
The last engine shut down 4 minutes and 40 seconds after liftoff, at which point the vehicle began to descend. It shifted into a horizontal orientation, using its fins to guide its descent. At 6 minutes and 32 seconds after liftoff, Starship reignited its engines and reoriented to the vertical to attempt a powered landing. However, the vehicle appeared to be going too fast and made a hard landing 10 seconds later, exploding.