Virgin Galactic's SpaceShipTwo aborted an attempted suborbital spaceflight Dec. 12 from Spaceport America in southern New Mexico.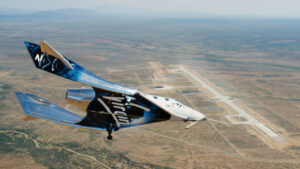 Virgin Galactic's WhiteKnightTwo aircraft, carrying the SpaceShipTwo vehicle named VSS Unity by the company, took off from Spaceport America in southern New Mexico at 10:24 a.m. Eastern. Piloting SpaceShipTwo were Dave Mackay, the company's chief test pilot, and former NASA astronaut CJ Sturckow.
VSS Unity separated from WhiteKnightTwo at about 11:15 a.m. Eastern. According to a webcast from NASASpaceFlight.com, the spaceplane appeared to ignite its hybrid rocket engine but almost immediately shut it down. The vehicle then glided back to Spaceport America, landing at 11:27 a.m. Eastern, the company announced on Twitter. "Pilots and vehicles back safe and sound," the company said.
"The ignition sequence for the rocket motor did not complete. Vehicle and crew are in great shape," the company tweeted shortly after SpaceShipTwo landed. "We have several motors ready at Spaceport America. We will check the vehicle and be back to flight soon."
In an update later Dec. 12, Michael Colglazier, chief executive of Virgin Galactic, said a computer on SpaceShipTwo lost connection around the time of ignition. "As designed, this triggered a fail-safe scenario that intentionally halted ignition of the rocket motor. Following this occurrence, our pilots flew back to Spaceport America and landed gracefully as usual," he said in a statement. An investigation to find the root cause of the computer issue is underway.
The company did not provide its own livestream of the flight and did not host media or other guests at the spaceport, restricting access to only essential personnel because of the pandemic.
The flight was intended to be the first of three the company said it would perform before beginning commercial operations. A second flight, in the first quarter of 2021, would carry four company employees along with two pilots to test the cabin interior and the spaceflight experience. A third flight would follow as soon as late in the first quarter of 2021 with company founder Richard Branson on board.