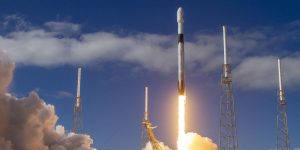 SpaceX set a new milestone in Falcon 9 reuse with the latest Starlink satellite launch Nov. 24 as the company seeks permission to deploy Starlink satellites into a new orbit.
The Falcon 9 rocket lifted off from Space Launch Complex 40 at Cape Canaveral Air Force Station in Florida at 9:13 p.m. Eastern. The rocket's upper stage released its payload of 60 Starlink satellites into low Earth orbit about 15 minutes later.
The rocket's first stage landed on a droneship in the Atlantic, completing its record-setting seventh launch. The stage first flew in September 2018 launching the Telstar 18 Vantage satellite, followed by the final Iridium mission in January 2019. The rocket then launched four Starlink missions starting in May 2019, most recently Aug. 18.
The launch was also the 100th overall for the Falcon 9, a total that includes a June 2015 launch failure but not the destruction of another on the pad during preparations for a static-fire test in September 2016.
SpaceX has now launched 955 Starlink satellites, of which 895 are in orbit. The company has started a beta test of the broadband internet service provided by those satellites in the northern U.S. and southern Canada. During the webcast of this launch, the company said it would expand that beta test "in a notable way" in late January or early February.
To date SpaceX has launched Starlink satellites into orbits at an inclination of 53 degrees, maximizing coverage over mid-latitude regions but excluding higher latitudes, including Alaska, northern Canada and northern Europe. The company's original authorization from the Federal Communications Commission called for other satellites at higher orbits and inclinations, but the company filed a proposed modification in April that would lower all the satellites into orbits between 540 and 570 kilometers, including those in high-inclination orbits.