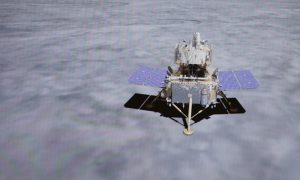 The lander-ascender combination of China's Chang'e-5 lunar probe has successfully landed on the Mons Rumker area of the huge volcanic plain Oceanus Procellarum, known as the "Ocean of Storms," on the near side of the moon on Tuesday evening, China's National Space Administration said.
The CNSA informed the Global Times that the lunar probe has landed at the planned location on the near side of the moon at around 11:11 pm on Tuesday. The probe sent images of the operation.
The lander-ascender combination of the spacecraft started to decelerate when it was some 15 kilometers above the lunar surface at 10:57 pm on Tuesday. The 7,500-newton thrust-variance engine was successfully activated, reducing the speed from 1.7 kilometers per second to zero.
The camera onboard the lander took a picture of the landing area while executing moon landing.
The smooth soft landing came eight days after China's latest robotic lunar probe mission started on November 24 with a pre-dawn launch from South China's Hainan Province.
The development was China's third successful landing on the Earth's natural satellite, following a first by the Chang'e-3 probe on December 14, 2013, and a historic first landing on the far side of the moon by the Chang'e-4 probe on January 2, 2019. "China is the only country that has landed on the moon in decades," the Washington DC-based media the Hill reported on Sunday, while citing recent failed attempts by India and a private group in Israel.
"China is far and away ahead in the modern race to the moon. The winner of the 21st century moon race will have access to the moon's resources and position as the gateway to the rest of the solar system, and will own the future," it wrote.
The landing site, scientists believe, contains rocks and soil that are 3.2 to 4 billion years old. It has never been visited either by a probe or human, and is believed to fill an important gap for scientists to better understand the Moon's volcanic activities.