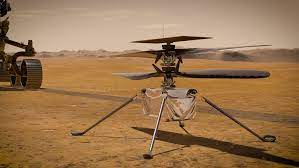 NASA's Ingenuity helicopter on Mars, a tissue-box-sized rotorcraft that landed with the Perseverance rover in February, completed its 10th flight over the red planet on Saturday.
Each Ingenuity flight has been more daring than the last. So Saturday's flight was likely the helicopter's riskiest yet: If everything went according to plan, Ingenuity climbed 40 feet in the air, then headed south-by-southwest toward a collection of rock features called "Raised Ridges," before looping back around to a landing zone about 310 feet west of its initial takeoff spot.
Before Saturday, Ingenuity had already flown nearly one mile in total, so its 10th flight helped it hit that threshold. The flight should have lasted about 2 minutes, 45 seconds. During that time, Ingenuity is expected to have visited 10 distinct waypoints, snapping photos along the way.