Home » Posts tagged 'Martian Helicopter'
Tag Archives:
Martian Helicopter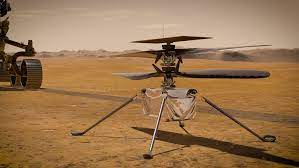 NASA's Ingenuity helicopter on Mars, a tissue-box-sized rotorcraft that landed with the Perseverance rover in February, completed its 10th flight over the red planet on Saturday.
Each Ingenuity flight has been more daring than the last. So Saturday's flight was likely the helicopter's riskiest yet: If everything went according to plan, Ingenuity climbed 40 feet in the air, then headed south-by-southwest toward a collection of rock features called "Raised Ridges," before looping back around to a landing zone about 310 feet west of its initial takeoff spot.
Before Saturday, Ingenuity had already flown nearly one mile in total, so its 10th flight helped it hit that threshold. The flight should have lasted about 2 minutes, 45 seconds. During that time, Ingenuity is expected to have visited 10 distinct waypoints, snapping photos along the way.
NASA's Mars helicopter Ingenuity will have to wait a few more days to make its historic first flight on the Red Planet.
Ingenuity, which flew to Mars tucked into the belly of NASA's Perseverance rover that successfully landed on the planet Feb. 18, is set to make history with the first controlled, powered flight through another planet's atmosphere.
The interplanetary helicopter was previously set to take off no sooner than April 8, but the little craft will now take flight no earlier than April 11, NASA's Jet Propulsion Laboratory (JPL) in Pasadena, California, announced via Twitter Wednesday (March 31).
"Come fly with us," JPL tweeted. "#MarsHelicopter is preparing to do something that's never been done: controlled, powered flight on another planet. Takeoff is now slated for no earlier than April 11, with data arriving on Earth on April 12."

The helicopter, located underneath the rover, has been unfurling from Perseverance's belly, preparing for the Flight. On March 21, Perseverance dropped a protective shield, which helped the helicopter to endure the perilous descent through Mars' atmosphere. It takes a bit of time for the helicopter to unfold and formally deploy for the flight. It takes about six sols, or six Mars days (one sol is equal to about 24 hours and 40 minutes on Earth, or a little more than one Earth day), NASA officials said in a statement.