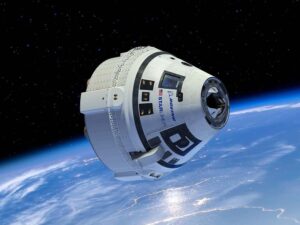 Boeing is set to launch its Starliner spacecraft on a crucial uncrewed flight to the International Space Station next week. The liftoff atop a United Launch Alliance Atlas V rocket is scheduled for 2:53 p.m. EDT (1853 GMT) next Friday (July 30) from Cape Canaveral Space Force Station in Florida. You'll be able to watch the launch and mission activities on NASA TV.
If all goes to plan, Starliner will take about 31 minutes to reach its preliminary orbit and then will target a docking the next day with the International Space Station. Starliner tried this meetup once before, on the OFT-1 mission in December 2019, but suffered a series of technical issues that left the capsule stranded in the wrong orbit for a rendezvous.
The OFT-2 docking is scheduled for 3:06 p.m. EDT (1906 GMT) on Saturday (July 31) and will also livestream on NASA's channels and the Space.com website. Starliner will bring 400 lbs. (181 kilogram) of NASA cargo and crew supplies to the orbiting complex and return to Earth with more than 550 lbs. (250 kg) of cargo, the agency said in a statement.
The date of Starliner's departure from the space station has not yet been scheduled, but the OFT-2 mission is expected to last about a week. See below for a detailed timeline of media events in the leadup to the mission and its first few days.
"OFT-2 will demonstrate the end-to-end capabilities of the Starliner spacecraft and Atlas V rocket from launch to docking to a return to Earth in the desert of the western United States," NASA said in the same statement. "The uncrewed mission will provide valuable data toward NASA certifying Boeing's crew transportation system for regular flights with astronauts to and from the space station."
Boeing is one of two commercial crew providers for the International Space Station, along with SpaceX, which has been using its Crew Dragon spacecraft and Falcon 9 rocket for operational activities since 2020. SpaceX and Boeing received NASA contracts in 2014 valued at a combined $6.8 billion to encourage the development of crewed spaceships meant to replace the space shuttle, which retired in 2011. Boeing is expected to start sending astronauts to space in 2022, provided all goes well with OFT-2.
With this new activity by Boeing, it seems that the commercial spaceflight sector is growing exponentially.