India's first launch of 2021 has ended in failure.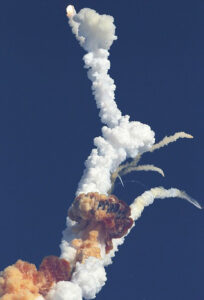 An Indian rocket carrying a new Earth-observation satellite for the Indian Space Research Organisation (ISRO) suffered a catastrophic failure shortly after launching early Thursday (Aug. 12) from the country's Satish Dhawan Space Centre on Sriharikota Island in eastern India. The liftoff occurred at 5:43 a.m. local time in India (8:13 p.m. EDT Aug 11/0013 GMT).
The launch failure, the first for India since 2017, occurred sometime past the six-minute mark when the mission's rocket, the 12-story-tall Geosynchronous Satellite Launch Vehicle, was expected to have ignited its cryogenic third stage. That third stage ignition did not happen, ISRO officials said.
"Performance of first and second stages was normal. However, Cryogenic Upper Stage ignition did not happen due to technical anomaly," ISRO officials wrote in an update on Twitter. "The mission couldn't be accomplished as intended."
The launch "could not be fully accomplished" because of a "technical anomaly observed in the cryogenic stage, ISRO chair K. Sivan said in a brief televised statement after the failed mission.
Lost with the GSLV rocket was the EOS-03 Earth observation satellite designed to be a state-of-the-art tool for ISRO to study our planet. The satellite was expected to last at least 10 years working to provide near real-time images of India, track natural disasters and other short-term events and collect data to assist agriculture and forestry by monitoring crop health, according to an ISRO mission description.
The GSLV launch failure breaks a streak of 14 successful launches for ISRO, the launch tracking site Spaceflight Now reported. It began after the the 2017 failure of a different Indian rocket, a smaller Polar Satellite Launch Vehicle, carrying a satellite for the Indian Regional Navigation Satellite System. That 2017 failure was the first in 20 years for India's PSLV.