February 1, 2003: Space Shuttle Columbia Disintegrates During Landing Killing Seven Astronauts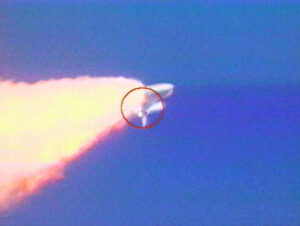 The US space shuttle Columbia has broken up as it re-entered the Earth's atmosphere killing all seven astronauts on board.
This is the first time there has been an accident on landing in the 42 years of American space flight.
President George Bush told a nation in shock: "The Columbia is lost. There are no survivors."
Six of the seven astronauts were US citizens. They were Rick Husband, William McCool, Michael Anderson, David Brown, and female astronauts Laurel Clark and Indian-born Kalpana Chawla.
The seventh – fighter pilot Colonel Ilan Ramon – was Israel's first astronaut and was carrying with him a miniature Torah scroll of a Holocaust survivor.
Columbia disintegrated just 16 minutes before it was due to land at Cape Canaveral in Florida.
At 0900 local time (1400 GMT) Mission Control lost all data and contact with the crew.
The US space agency Nasa then sent search teams to the Dallas-Fort Worth area amid reports of "a big bang" and TV pictures showing smoke and fireballs in the sky.
Debris scattered over Texas
In an emotional announcement, Nasa's administrator Sean O'Keefe, said: "This is indeed a tragic day for the Nasa family, for the families of the astronauts and likewise, tragic for the nation."
Flags at the Kennedy Space Center have been lowered to half-mast.
Debris from the shuttle is scattered across eastern Texas and western Louisiana and has crashed into car parks, forests, backyards, a reservoir, a rooftop and a dentist's office.
Nasa has temporarily suspended shuttle flights. Shuttle program manager Ron Dittemore told a news conference in Houston, Texas, "We will not fly again until we have this understood. Somewhere along the line we missed something."
The finger of blame points to a piece of insulating foam from an external fuel tank that hit the shuttle's left wing as it took off 16 days ago.
Some experts say this could have damaged tiles that protect the craft from intense heat on re-entry into the Earth's atmosphere.
But the lead flight director in mission control, Leroy Cain, assured journalists engineers had concluded any damage to the spacecraft was considered minor.
The shuttle was the world's first reusable space vehicle and Columbia was the oldest of a fleet of four and flew her maiden voyage in April 1981.
Her sister ship Challenger exploded soon after take-off 17 years ago killing six astronauts and schoolteacher Christa McAuliffe.