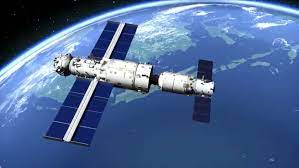 China's Tianzhou-2 cargo spacecraft docked with the Tianhe space station module in low Earth orbit Saturday, eight hours after launch from Wenchang spaceport.
The uncrewed Tianzhou-2 spacecraft completed automated rendezvous and docking maneuvers with Tianhe at 5:01 p.m. Eastern May 29.
Tianzhou-2 is tasked with delivering propellant and supplies ahead of a first crewed mission to Tianhe in June.
Earlier on Saturday a Long March 7 medium-lift rocket lifted off from the coastal Wenchang spaceport at 8:55 a.m. Eastern. The roughly 13-metric-ton Tianzhou-2 cargo spacecraft entered its intended orbit and deployed its solar arrays at 9:17 a.m., the China Aerospace Science and Technology Corp. (CASC) confirmed within an hour of liftoff.
Tianhe, the first module for China's space station, launched late April 28 and passed on-orbit testing May 18, according to the China Manned Space Engineering Office (CMSEO).
Tianzhou-2 matched its 343 by 371-kilometer orbit for rendezvous. Now docked, Tianzhou-2 will conduct an automatic transfer of 1.95 tons of propellant to the 22.5-ton Tianhe module.
This is another important step in China's race for dominance in space.