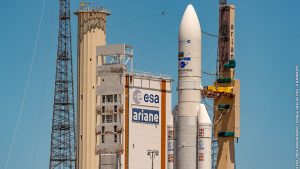 Arianespace has announced that the launch campaigns at the Guiana Space Center will resume soon. This comes after a month-long suspension of all launch campaigns that began on March 16th.
Beginning May 11th, the launch campaigns for the VV16/SSMS and the VA253 will resume. The launch campaigns were halted due to the COVID-19 pandemic on March 18th.
After the launch campaigns reactivate, the workforce will adhere to strict compliance with health rules published by the Prefect of French Guiana, the CNES, and the Guiana Space Center. The objective is to preserve the health of the workers, the space center, and the local population, but allow the security and safety condition required for the preparation of the planned launches.
The launch campaigns for the Soyuz VS24 and VS25 will also resume this summer.
As of April 21st, the measures to maintain the launch sites in an operational configuration will be applied with social distancing procedures.