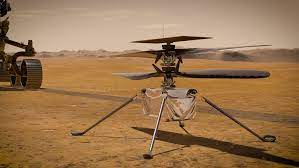 NASA's Mars helicopter Ingenuity keeps pushing the aerial exploration envelope.
The 4-lb. (1.8 kilograms) chopper lifted off from the floor of Mars' Jezero Crater today at 10:49 a.m. EDT (1449 GMT), kicking off its fourth flight on the Red Planet.
Ingenuity achieved all of its main technology-demonstrating goals on flights one through three — which occurred on April 19, April 22 and April 25 — so the helicopter's handlers let it off the leash today. Ingenuity covered 872 feet (266 meters) of ground and reached a top speed of 8 mph (13 kph) during the 117-second jaunt, NASA officials said.
The previous highs, set on sortie number three, were 330 feet (100 m) of lateral distance, a 4.5 mph (7.2 kph) maximum speed and an 80-second flight time. (The maximum altitude attained — about 16.5 feet, or 5 m — has remained the same on the three most recent flights.)
If all went according to plan, Ingenuity also took 60 photos with its downward-facing navigation camera and five with its 13-megapixel color imager while aloft today, helicopter team members said.
We don't yet know if Ingenuity's robotic partner, NASA's Perseverance rover, will be in any of those shots. Ingenuity managed to spot the rover from the air during flight number three, capturing an image unprecedented in the history of exploration.
Perseverance carries two onboard microphones, and the rover attempted to record sound of Ingenuity's flight today for the first time, mission team members said. Again, we'll have to wait until more data comes down to see if that did indeed happen.