Home » Posts tagged 'nigt splashdown'
Tag Archives:
nigt splashdown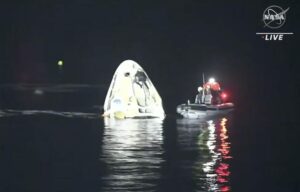 A SpaceX Dragon capsule carrying four astronauts returned to Earth early Sunday (May 2) with an ocean splashdown off the Florida coast, successfully completing the company's first full-fledged crewed mission to the International Space Station.
The astronauts of SpaceX's Crew-1 mission for NASA splashed down safely in the Gulf of Mexico near Panama City at 2:56 a.m. EDT (0656 GMT), with a recovery ship swiftly retrieving their Crew Dragon capsule from the sea. The spacecraft landed on target, marking the first nighttime splashdown of a U.S. crewed flight in 53 years. The last was NASA's Apollo 8 moon mission on Dec. 27, 1968.
"Dragon, on behalf of NASA and SpaceX teams, we welcome you back to planet Earth and thanks for flying SpaceX. For those of you enrolled in our frequent flier program, you've earned 68 million miles [109 million kilometers] on this voyage," a SpaceX crew operations and resources engineer told the Crew-1 astronauts after splashdown.
"It is good to be back on planet Earth," replied NASA astronaut Mike Hopkins, commander of the Crew-1 mission. "We'll take those miles. Are they transferable?"