Home » Posts tagged 'spacex and nasa'
Tag Archives:
spacex and nasa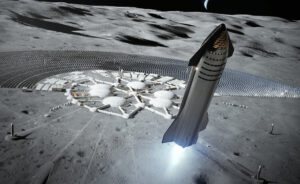 Race to the moon is heating up between USA, Russia, China and India with news of new missions every day. China's first lunar sample return heated up this race this year and Artemis Project by NASA is going full speed ahead as it has a goal of having a manned landing on moon and then to have a sustainable long term presence on the moon with moon habitats by the end of 2020s. Now a new development heats the moon race as Elon Musk states that SpaceX can land astronauts latest by 2024 to the moon.
SpaceX spacecraft Starship is about 50 meters tall and its a heavy rocket with lift capability that can allow a moon mission similar to the Saturn rockets of moon missions in the 1960s. The giant first-stage rocket that will launch Starship off Earth is called Super Heavy. SpaceX has built a Super Heavy prototype but has not yet flown one. If the prototype is successful, this development can make SpaceX become the first private company to reach the moon and make USA the first nation to reland a manned mission on the moon after 1960s.
Musk acknowledged that his target timelines tend to be optimistic and should be taken "with a grain of salt." But the occasion of today's news conference offers some reason for optimism, highlighting as it did SpaceX's human spaceflight achievements (albeit with a different transportation system, the Falcon 9 rocket and Crew Dragon capsule). With Crew-2 safely on its way to the space station, SpaceX has now launched three crewed missions to Earth orbit in less than 12 months.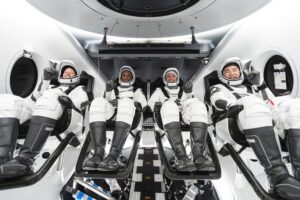 SpaceX was able to create another milestone in the space technology missions of the private sector with its recent launch of 4 astronauts into space. It's the third crewed launch for SpaceX owned by Elon Musk in less than 12 months.
A slightly sooty Falcon 9 rocket topped with a Crew Dragon capsule took to the skies above NASA's Kennedy Space Center here at 5:49 a.m. EDT (0949 GMT) today (April 23), lighting up the predawn sky as it lifted off from the historic Pad 39A.
The launch kicked off SpaceX's Crew-2 mission, which will carry four astronauts — NASA's Shane Kimbrough and Megan McArthur, French astronaut Thomas Pesquet and Japanese spaceflyer Akihiko Hoshide — on a 24-hour flight to the International Space Station (ISS). The launch countdown proceeded smoothly, with the closeout crews completing leak and communications checks ahead of schedule. The crew was relaxed and even enjoyed a quick game that resembled rock, paper, scissors (but was actually a game Thomas played as a kid and shared with his crewmates) while waiting for the leak checks to be completed.
"Our crew is flying astronauts from NASA, ESA and JAXA, which hasn't happened in over 20 years," Kimbrough told SpaceX flight controllers just before launch as he thanked the NASA and SpaceX teams. "Off the Earth, for the Earth, Endeavour is ready to go."
The Falcon 9 put on a breathtaking show this morning as the glows from the rocket's engines lit up the sky.
Crew-2's launch was one for the history books. It marked several firsts, including the first time that people have flown on a used Crew Dragon and with a used Falcon 9 first stage, and the first time that two different international astronauts have ridden in the capsule.